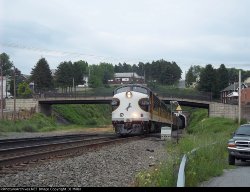 Welcome to the RRPictureArchives.NET contributor site of DJ Miller.


Hi, My name is DJ. I love railfanning and take some good photos. I am 11 years old. I started railfanning when I was 9. I could tell anything about trains. What Locomotive model and what the railroad is. I am a railroad genius! My favorite railroad is Conrail which I am a all time fan of. I love to see Conrail blue engines. I hate dash-9s and container trains (except the 20R 20T and 25Z). I love seing coal trains and mixed frieghts! I live in Fallen Timber Pennslyvania. I go to Penn Cambria Middle school. I am in 5th grade! I only have a couple friends but stick with my three cousins Jordan Vanguilder,Masen Koons and Madison Clinemyer. I do not go to bed late. I actully go every night at 8:15 or 8:20. I am up everyday at 5:00 am. When I grow up I am planning starting a train picture buisness with my friend Austin Kline, who lives in Lilly. My favorite rail picture so far is my picture of Ns 6724 SD60I hooked up to a RJ Corman trrain waiting to take it to the Strawberry Ridge Power plant. I some what chase trains. One time I was in Cassandra and Ns 9355 came by and later I was at Carney's Crossing and my scanner went off saying the same train was going to back down track # 3 in Cresson,Pull up on track #5 ,hook the helpers off and go up to RJ Corman. Another chase was a RJ Corman train sitting on track # 5 ready to go up to RJ Corman. I made a move on June 26, 2010 when the internet said it was railfest and I went down to Altoona to watch the people and the train did not come. Then a Altoona police officer said that Ns was charging them $60,000 to use the tracks. So that day was also my first time catching a former SW1500 from Ns to PRLX! That day I was down Altoona. Then went to Coburn. After that Carney's Crossing. Then Cresson. Finally Gallitzin. That's all of my main information.
<iframe src="http://www.facebook.com/plugins/likebox.php?href=http%3A%2F%2Fwww.facebook.com%2Fplatform&amp;width=292&amp;colorscheme=light&amp;show_faces=true&amp;border_color&amp;stream=true&amp;header=true&amp;height=427" scrolling="no" frameborder="0" style="border:none; overflow:hidden; width:292px; height:427px;" allowTransparency="true"></iframe> Like my facebook and also get updates when photos are coming!
Most of it is about the Ns Pittsburg line from Altoona to Johnstown inculding Everett Railroad and RJ Corman.
<

Favorties

Locomotive SD60I or SD80MAC.

Railroad RJ Corman

Branchline Ns Cove Secondary

Train Coal Train

Locomotive Number 3347-Ns deffently

Want some slow trains?

Coburn PA is where to find them.

About Me

Home - Fallen Timber (Most of my family lives in Gallitzin)

Twitter Username - NsWestSlope

You might see some of these and alot of them

All the locomotives you can find on the West/East Slopes

SW1500

GP38

GP38-2

GP38-3

GP40

SD40-2

SD40E

SD50

SD60

SD60I

SD60M

SD70

SD70M-2

SD70M

SD70ACe

SD80MAC

Dash-9

Dash-8

DID YOU KNOW

Facts from Altoona to Johnstown,PA Including Shortlines

3347 was the only blue unit in the helper pool for a year.

The Cove Secondary has a train every Sunday

Everett Railroad has 2 excrusion trains a year

Ev 1712 and 1828 are former RJC 1712 and 1828

Ev 707 was in for a trade for 915

7205 was the last SD80MAC repainted

The AR Tower was on fire due to a lighting strike

The Cove Secondary is 5258 and 2378's home line.

RJC dose corn train forwards

The speed limit is 45 at Carney's Crossing

7202 spent less then a month in CR Blue

The tunnels were increased in 1996

Trash Train ID for West And East Slope 65J

Ways to find 2378

The Cove Secondary is used Thrusdays and Sundays

If you want to see them at the wye, try to either get where you can see them picking up the excange cars or at the crossing. Everett Railroad is also there so you can get photos of just them or with the train in it.

Lost Helpers (SD40-2's)

Ns 3335

Ns 3336

Ns 3337

Ns 3338

Ns 3339

Ns 3340

Ns 3341

Ns 3342

Ns 3343

Ns 3344

Ns 3345

Ns 3346

Ns 3347-I will really miss this one!

Ns 3348

Ns 3349

Ns 3351

Ns 3352

Ns 3353

Ns 3354

Ns 3361

Ns 3362

Ns 3363

Ns 3364

Ns 3371

Ns 3372

Ns 3373

Ns 3375

Ns 3380

Ns 3410

Ns 3423

Ns 3424

Ns 3425

Ns 3427

Ns 3428



You may browse my collection of pictures via the menu located on the left hand side of the page. I hope you enjoy the collection and thanks for stopping by!